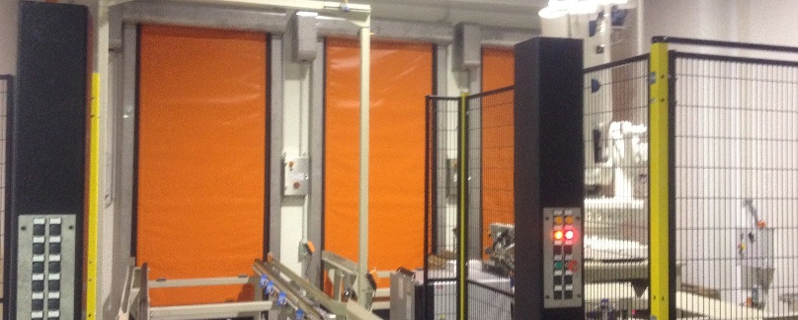 SMART RAPID ROLL DOORS
Rapid roll doors specifically designed for industrial environments, fit for integration with Dos&Donts interlock systems.
When integrated in HAZEL®, the smart controlled doors can interact with other systems such as AGVs, access controls, environmental parameters controls, clocks, alarms, video streaming, …
Dimensions optimized on demand, wide range of colors, finishes and coatings customization according to environmental and usage requirements characterize all our doors.

Solutions
Rapid roll for Clean Rooms
Rapid roll for food industry
Rapid roll for laboratories
Rapid roll for roller conveyors
Rapid roll for wharehouses
Automatic swing or sliding doors
Sealed doors
Application Fields
Personnel and material access in chemical, pharma, food, cosmetics, biotech laboratories.
Advantages
Robust, reliable automation tested in thousands of applications.
Sheet recovering and restoring in case of accidental impact.
Integration with Dos&Donts interlock control systems
Optional remote controls
Optional LAN/WI-FI connection
Installation in accordance with best practices in compliance with the 2006/42 / EC directive
Turn-key solutions on demand, complete of mechanics and automation